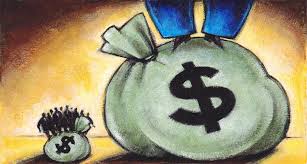 Below find links to articles by Collective 20
What Next (November 2020)
The corp
Transforming the Corporate System, One Step at a Time (November 2020)
The corporation is an integral component of the capitalist system, wielding power 
that has far-reaching and negative consequences for societies and the environment.  
But we already have the means to transform these institutions into entities that 
serve people and protect our planet.
From 2000 Feet (November 2020)
Healthcare work is crucial in our society, even more so in times of crises and 
pandemics.  But healthcare workers, who are mainly women, are severely undervalued 
and military flyovers of fighter jets do not compensate for low wages and poor 
working conditions.
Culture Makes Us Human (October 2020)
Amidst the turmoil and growing uncertainty in our modern world, it would be easy
to push culture aside as irrelevant.  But culture is intrinsic to the human
experience and far from being irrelevant, it may play an important role in how we 
manage future crises and collective trauma.
The Psychosis of Whiteness (October 2020)
Collective 20 interviews the director of the film The Psychosis of Whiteness
which examines society's perceptions of race and racism.
Is Socialism a Failed Idea? (September 2020)
Challenging the position that socialism is a failed idea and pointing out the 
irrationality of free-market proponents who ignore alternative economic models, 
just so they can draw ideologically convenient conclusions.
Greenwashing Capitalism Won't Heal the Planet (September 2020)
Governments and political leaders across the world still do not get it: if they 
continue to downplay the urgency of our situation, they are risking our survival.
Interview with Mary Wareham, Campaign to Stop Killer Robots (September 2020)
Exclusive Collective 20 interview with Mary Wareham, advocacy director of the Arms 
Division at Human Rights Watch (HRW) and global coordinator of the Campaign to 
Stop Killer Robots.
Live Like Them (August 2020)
Some ideas about how we can support the brave professional athletes who are taking 
a stand in the fight for racial justice.
Freedom, Responsibility and Alienation (August 2020)
Our societal institutions, even those considered benign, can violate our freedom 
and create alienation.  But they can be organized in alternative ways that respect 
our freedom and our responsibility to respect the freedom of others.
Raise, Don't Stabilize and Don't Reduce Social Costs (August 2020)
If our activism and demonstrations are to win change, we must ensure that the 
social costs for the elites are not stabilized or reduced, but instead are raised 
as high as we can push.
Dump Trump then Combat Biden  (July 2020)
Offering a strategy to unite the Left in the upcoming US presidential elections.
What would the NHS look like if it took health promotion seriously? (July 2020)
The workplace hierarchy that exists in the British National Health Service in 
itself is a barrier to good health and well-being; rather, horizontal structures 
are possible.
It's the economy stupid! Or is it the stupid economy? (July 2020)
Coming out of lockdown doesn't have to mean recession and austerity; we should use 
this time to demand an alternative economy that puts people and the planet front 
and centre.
Tomorrow's World, Today (June 2020)
From the outrage at the murder of George Floyd, we can organise and unite in the 
present moment under values and vision for a better world.
Gearing Up or Dying Down (June 2020)
Left movements rise and inevitably fall and the obstacles to survival are the same 
in almost all cases. Being aware of these obstacles means they can be avoided; 
avoiding them means that movements can gear up but not die down.
'Movement Moments' to Change, the Red Summer to Black Lives Matter (June 2020)
The travesty of George Floyd's murder has sparked a movement moment but can it 
lead to the change that is needed for African Americans and people of color 
everywhere?